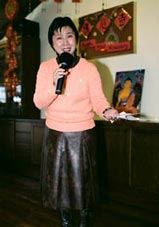 散文朗讀
Reading Chinese prose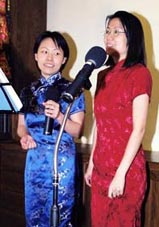 佛曲二部合唱
Buddhist song choir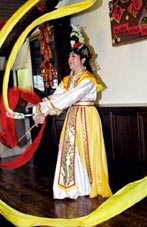 彩帶舞
Ribbon dance
  佛心寺平日推廣禪修,弘揚正信佛法。於新春佳節之際,為學習菩薩自利利他的精神,促進中西文化交流,特舉行「新春藥師祈福法會暨春節聯歡表演活動」。
  法會當天,陽光普照,和風徐徐,護法信眾於上午九時左右,陸續雲集。在悠揚的梵唄聲中,大眾恭誦《藥師琉璃光如來本願功德經》。本寺住持見太法師亦以中、英文開示誦持《藥師經》的功德利益,讓大眾了解藥師佛除了發願救度眾生病苦外,更要去除每個人心中的貪瞋癡煩惱。只要善調身心,廣修福德,我們本具的智慧自然能顯現出它的妙用。
  接著,是佛前大供及消災、超薦等法事。大眾除了以清淨香齋供養諸佛菩薩外,並將誦經、持咒的功德回向予正逢百周年的奧克拉荷馬州,祈求風調雨順,諸事呈祥;此外,也祈願護法善信增福增慧,往生者超生淨土。
  法會結束後,即展開一連串的春節聯歡表演。首先,由八位華語班學員所帶來的「拜年歌」揭開序幕。接下來的佛曲二部合唱、雙截棍表演、太極拳演出、電子琴演奏及散文朗讀,皆表現出中華文化豐富的內涵。而活動最高潮是梁遵燕居士所帶來的舞蹈,其以精湛的表演,至誠供養諸佛菩薩及與會大眾,博得全場熱烈掌聲。而最後的彩帶舞及福袋結緣,更讓與會的中西人士,感受中國年節的歡喜氣氛。
  「新年新春萬事新,日新又新在明心。直下承當照古月,朝朝暮暮在逢春。」新的一年就要有更多的體悟與突破,無論處於何種境界,希望這念心始終清楚明白作主,如此一來,日日皆是好日,年年都是好年。
 At Buddha Mind Monastery, we promote the Zen practice and propagate the truths of Buddhism. To celebrate the Chinese New Year, we held the New Year Medicine Buddha ceremony and Chinese New Year celebration. These enabled us to learn the Bodhisattva's spirit of benefiting oneself and others. Furthermore, they helped to facilitate the cultural exchange between the East and the West.
 On that day, the weather was sunny with a light breeze. Around 9:00 am, all the Dharma supporters gathered at the Buddha Mind Monastery. Amid the melodious chanting and Dharma instruments, the assembly recited the "Medicine Crystal Radiance Tathagata's Vow and Merit Sutra." Master Jian Tai, the Abbess of the Buddha Mind Monastery, gave a Dharma lecture in both Chinese and English to elucidate the merit and virtue of chanting the Medicine Buddha Sutra. The Medicine Buddha makes a great vow to cure the physical illnesses and eradicate the vexations of sentient beings. Only when we have a peaceful mind and healthy body and broadly cultivate virtues and blessings, will the wonderful function of our inherent wisdom naturally manifest.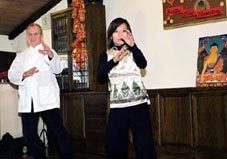 太極拳表演
Tai Chi martial art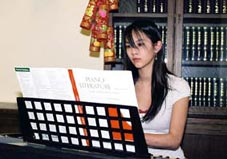 電子琴演奏
Performed electronic piano
 Next followed the Grand Meal Offering, Blessing Service and Memorial Service. During the ceremony, everyone sincerely offered incense and vegetarian food to the Buddha and Bodhisattvas. By chanting the sutras and mantras, we dedicated the merits to those in Oklahoma, who are now celebrating their centennial, and wish them prosperity and success in everything. We also wish that the Dharma supporters will increase blessings and wisdom, and that the deceased will transcend to the Pure Land.
 After the Dharma ceremony, there were many performances. They began with New Year songs, sung in Chinese by eight students from our Mandarin Learning class. Next were two-part singing of Buddhist songs, nunchakus, Tai Chi, electronic piano, and recitation of Chinese prose. These performances fully demonstrated the richness of Chinese culture. The dance, "Fairy offers Fortune", as an offering to the Buddha, performed by Zweng-Yen Liang with devotion, won much applause and response. In the end, the ribbon dance and the gifting of fortune envelopes further added to the joyful atmosphere of the Chinese New Year celebration.
 "In the New Year and new spring, all things are renewed;
Each new day, our mind is awakened, clear and bright as the moon.
Day and night, anytime is springtime."
In the New Year, we should have greater realizations and breakthroughs. In all circumstances we hope this mind will be clear, aware, and in command, then each day will be a good day, and every year a good year.